<! ========= Cool Timeline Free 2.5 =========>
Timeline
Hedgerow Jam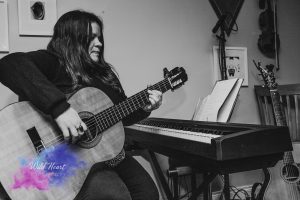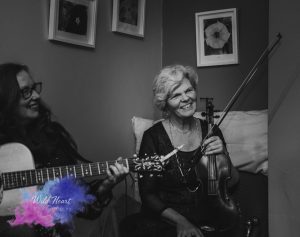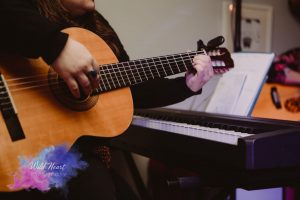 Hedgerow Jam is a collective of artists that aim to create an Arts Club of cultural and sustainable benefits to the Midlands community in Ireland.
Lets talk a bit about the idea and how it came about.
We (that's Aine, Bianca and Kara) thought it might be a good idea to play our original music in a warm, friendly environment with good food, fine wine and an appreciative audience who get to listen to the music. While the live bands and sessions in the bars are an essential part of the vibrant music scene, we wanted to get more intimate and get paid for our efforts without it costing you the earth.
At the first Jam, the Hedge-Folk who came fully armed with snacks and drinks, created the perfect atmosphere to make our dreams come true.
Performing at Misirlou Bar Berlin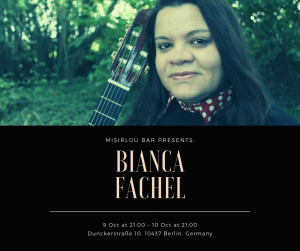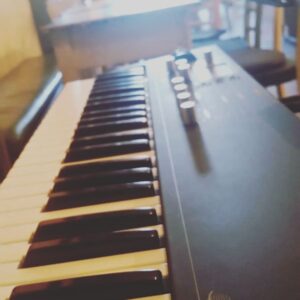 "We are delighted to have our good friend and gifted singer songwriter Bianca Fachel over from Ireland especially to play for us."
Workshop Nurturing Creativity – Transition Longford
You can also follow the story of Bianca's 'Birdland Studio', built on the site of their home 'Birdland Cottage'. Bianca is an incredibly talented musician, singer-songwriter – originally from Brazil – who followed her dreams to Ireland and her heart to Roscommon. We're delighted they settled here in 'Ireland Hidden Heartlands'.
Graduated in Sound Engineering & Festival Management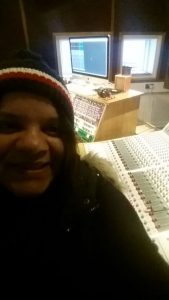 Playing with the Hatchlings at Body & Soul Music Festival
I was delighted to participate in this Festival and also be able to perform at the Arbutus Yard Stage and at the Sanctuary Stage with my own musician plot! Thanks to Reggie Cide who made this possible!
Birdland Studio's building progress and making off
We started to build a new music Studio, the Birdland Studio. It's built in a nice atmosphere facing a beautiful forest. Bianca's main goal is built a creative place where artists, composers and friends will have a different approach to music making, production, recording and at the same time developing musicianship.
Single and music video clip released

November 2018, Bianca Fachel released her first single and second music video clip "The Way Back Home". The single is one of the two soundtracks choosen to be in the Irish featured movie "Writing Home". Available in all online platforms.
Roscommon Arts Center
It was great to support We Raise Bears at the Roscommon Arts Center on 18th of July of 2017. Dublin-based indie band We Raise Bears had a great performance. Brian Kelly made all this possible. Thanks to him and to all the people that went to the show, specially Gerry Jago who helped promote on the radio.
Cruthú Arts Festival – Longford
Cruthú Arts Festival celebrates the wealth of artistic talent in the Midlands region by creating a positive, meaningful and fun engagement with the wider community. By enriching the town with exciting cultural events, exhibitions and installations, the programme helps to improve how Longford is perceived by its residents and further afield.
The legacy of Love Longford Festival in 2013, Cruthú has grown to include pop-up galleries, street art, film, circus, traditional arts, theatre, community public arts projects as well as live music performances. Our programme showcases the work of local, national and international artists of all genres and provides opportunities to engage with the public in a variety of new and alternative performances.
I was delighted to be part of the Festival! Picture by me dear friend Louise Bligh
Featured Irish Movie Writing Home
The songs "Keep on Moving" and "The way back home" are on the list of soundtracks of the Irish Featured Movie "Writing Home" first screened at the 29th the Galway Film Fleah in July 2017. Directed by three directors, Alekson Lacerda Dall'Armellina from Brazil, Miriam Velasco from Mexico and Nagham Michel Abboud from Lebanon – Writing Home was nominated Best Irish Featured Movie, Best First Irish Movie and Best Movie by the public.
"Funded by a string of international bestsellers – of dubious literary merit – Daniel Doran's luxurious London life consists of parties, book launches, red carpet events, women and even bigger parties. When his estranged father falls ill, Daniel reluctantly returns home to the rural Irish village of Darlingford. In a small town with no room for celebrities, Daniel must suddenly face the reality of family politics, the old flame he walked out on and the friends and community he left behind. Now an outsider in the town he never felt part of, Daniel is determined to escape back to cosmopolitan London at the first opportunity. But, in a modern comedy about rediscovering your past, Daniel will soon learn that, while there's no substitute for a good cup of coffee, there really is no place like home."
The Little Blue Room – Longford, August 2015.
I met Valerie Macguire at the Shawbrook Dance and Music Festival and since then she introduced me to Patrick Conboy who gave us a date to perform at the little blue room in Longford exactly on the last weekend my friend and guitarist Djâmen was staying in Ireland before going back to Brazil. It was a very special show – myself, Djâmen and the audiens enjoyed it very much!
Fundraiser for Nepal – Garden Party
I was very happy to be invited to sing at this beautiful place in Barrymore in the Midlands. I called Djâmen and he came straight from Switzerland to follow me and play in Yasmin's house, a beautiful initiative from Making Space in Athlone and friends. There was loads of art works, music and fun. The band 'Songs for Iris' from Denmark came to Ireland on tour and this event was one of the their performances – a beautiful music session in the garden! We were delighted to jam with them afterwards.
Montreux Jazz Festival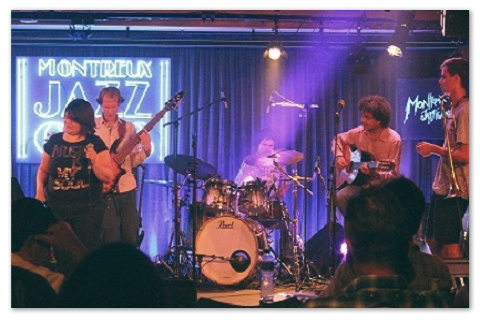 This was a very exciting adventure in Switzerland with my love Martin and my friend and brilliant musician Djâmen. It was a beautiful journey – planned for nearly a year with the whole process parallel to the recording of the EP. We played there at the Montreux Jazz Club, lots of jams, we did a lot of busking, sold some EPs and had a swim in lake Geneva adjacent to the festival. We also met a lot nice and interesting musicians, Olivier Michauville, Justin Kauflin and Isaac McCuskley.
EP "An overseas dream"
A collaboration work between myself and Djâmen Farias from Porto Alegre, Brazil. The EP was launched on the streets of Montreux, during the Montreux Jazz Festival in Switzerland in summer 2015. It was recorded totally independently, with lot of work and dedication. Djâmen and I produced the EP and all the arrangements were made by him and myself. I produced the videos and some of the songs too. It was very nice, without pressure and lots of fun. Between breaks and weekends we watched documentaries and had the most beautiful time together.
Featuring the following songs:
Com Que Roupa (By Noel Rosa): Noel Rosa was a Brazilian singer-songwriter and guitar/bandolim player. This song was his first song in string composition, made in 1931. Noel gave a new twist to Samba, combining its Afro-Brazilian roots with a more urban, witty language and making it a vehicle for ironic social commentary.
O Fruto (by B.Fachel): I made this song in 1999. The song is about the fruit of a tree that I created in my mind called Cajuá's tree and its fruit doesn't want to become mature and fall. It was a way to express the feeling about being young forever.
Vôo (by B.Fachel): Inspired by the book "Jonathan Living Seagull" a story. It's about freedom, learning and love – written by Richard Back. This is an instrumental song made in 2001. I also felt free to mix it with brazilian folk legends from the Amazon forest. This one in particular is about a bird called Uirapuru. The legend says – who hears this bird sing will be happy forever and he will make your wish become true. (The melody is a symbol of happiness.)
Samba de Chantel (by B.Fachel): The samba was created to show my compassion to a beautiful girl called Chantel, a dear friend who was suffering for love. Somehow, I had a connection with her in space time even though I was far away from her half around the globe. – 2013
Keep On Moving (by B.Fachel): This song describes the whole process of creation and to be an artist, human beings pursuing their dreams. You always need to 'keep on moving':) – 2014
Speech at Goldsmith Literature Festival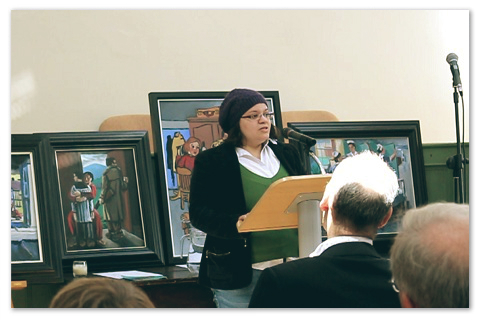 I was delighted when my friend Seamus Mcormack invited me to hold a speech about my live as an artist at the Oliver Goldsmith Literary Festival. It is the third oldest event of its type in Ireland. It takes place on June Bank Holiday weekend in the southern Longford-Westmeath area, which is becoming increasingly known as Goldsmith country. Over the last 31 years the festival (formerly the Goldsmith Summer School), has established itself as one of the foremost and most highly respected festivals of its type in Ireland with all aspects of Goldsmiths life, writings, and society having been explored over the years. A large variety of renowned critics, politicians, poets, commentators and academics have stimulated audiences over that time. It's an important task to keep alive the brilliant work and talent of Goldsmith beyond his time. This year I was helping with pictures and videos taken at the festival to promote future events.
Neu Bar. Berlin, Germany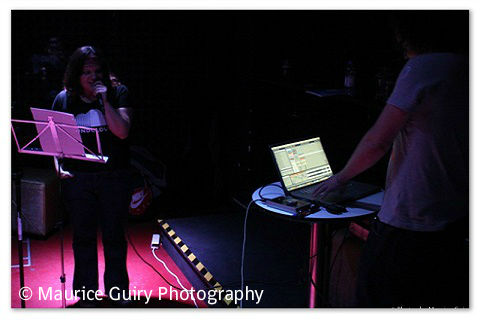 Invited by friend and producer Michael Lovatt, I was delighted to sing at Neu Bar. Michael and I also performed at the SoundCloud Global MeetUp in Dublin, in a project called Urban Response where the music is a fusion of different nationalities, colors, flavors, sounds and styles – a travel through hip-hop, dub, funk, electro, trip-hop and raggae. Currently we are working on a new EP, with slightly more downtempo jazz and bossa influences. The first album 'A Origem da Natureza Urbana' released in 2010 is available on bandcamp and all major download stores.
Recording at Windmill Lane Studios in Dublin
At the time we had a quintet, and we played in Dublin and a few festivals making a fusion between irish and brazilian music. The song recorded is called "Aquarela do Brasil". Musicians from Dublin: Danny Groenland (flute), Patrick Groenland (Guitar Player), Jason Macnamara (Drums) and Miguel Hoisel (Bass) from Bahia – Brazil. A music video of this recording can be seen on Youtube.